Toba Tranquility Fountain For Ponds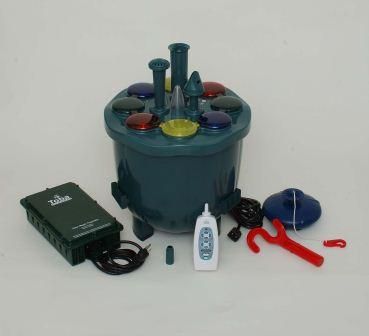 Toba Tranquility Fountain For Ponds
For Smaller Ponds or Pools!
The ONLY remote-controlled, self-contained fountain on the market for residential ponds.
• Over 150 different combinations using the full range of available fountain heads and lens colors.
• No installation required!
• Automatically cycle through different spray and lighting effects - or select a favorite combination.
• Operates with Long Range RF Remote Control (up to 150-ft)
• Includes THREE spray outlets (Toba, Firehose, Peacock, & Umbrella Spray) and FOUR light colors
• Remote controlled automatic shut-off timer (1-8 hours)
• Adjustable spray heights reach as tall as 10-ft in height; as low as 2.5-ft in height with
up to 16-ft diameter pattern
• Equipped with 16 light and water display patterns built in
• Provides healthy aeration for any pond
• Maximum flow - 1800gph
• Best in pond of at least 6-ft diameter
• 120/240V -- 50/60 Hz -- 4.5/2.6 Amps
• 19-ft power cord
• Fountain unit measures 15" diameter x 20" overall height
• Weather-proofed power supply
• Removable filters for easy cleaning
• Anchor with adjustable cable and an anchor locator
(skimmer attachment for anchor positioning).
• 55-lbs; 12-month limited warranty
ACCESSORIES: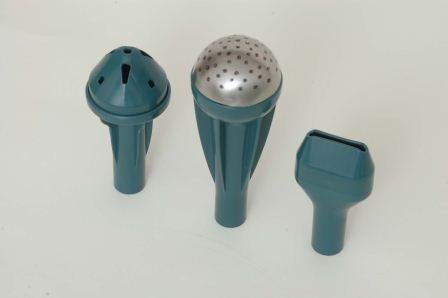 Toba Fountain Celebration Pack Fountain Heads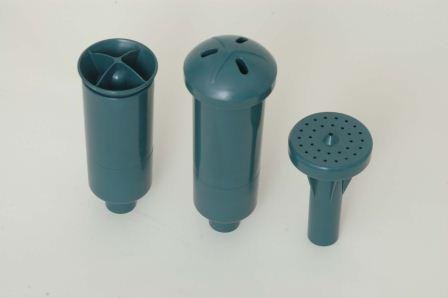 Toba Fountain Tranquility Serene Pack Fountain Heads

(each Features three spray patterns.)

---

Toba Fountain Tranquility Color Lenses

8 Pack Includes: Exotic Lens Pack (shows: radiant rose, flaming coral, atomic green, and vivid violet) and Leisure Lens Pack (cranberry cocktail, sunset, ocean, and purple passion)