Squat Aquatic Plant Containers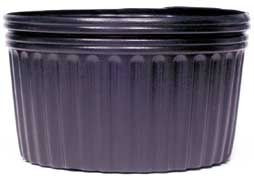 Squat Aquatic Plant Containers
1 Gallon SQUAT(no holes)
Measures: 7-1/2" Diameter x 5" Tall
2 Gallon SQUAT (no holes)
Measures: 9-1/2" Diameter x 5 1/2" Tall
Keep Your Aquatic Plant Soil With Your Aquatic Plant Instead Of In Your Pond Filter
For Marginal Aquatic Plants And Small Water Lilies.
This Aquatic Plant Growers Pond Measures 8" In Diameter X 5" High With No Holes.
Planting Pots Will Also Keep Koi And Other Root Eating Fish Away From The Plants Delicate Roots. Ideal For Small And Starter Marginal Plants. As The Aquatic Plants Mature, Split And/Or Re-Pot The Plants To Keep Them Both Growing And Removing Nutrients From The Pond Water. Use A Clay Loam Or Specially Designed Aquatic Planting Soil For Best Results. Never Use Potting Soil Designed For Terrestrial Plants Regularly Fertilize Marginal Plants For Maximum Growth And Blooming .