Savio Pond Free Waterfall Well
The Savio PondFree Waterfall Well™
simplifies the construction and maintenance of vanishing waterfalls and 'endless' streams. Patent-pending design protects expensive pump equipment from the crushing forces of rock and water with a structurally tough, injection-molded housing that's the strongest on the market. Durable snap-fit enclosure is easy to assemble and contains no moving parts. Its wide mouth means easy access to pump and plumbing. Multiple uses for irrigation, drainage, and lift-pump applications.
The Pond Free™ Waterfall Well™ handles pump flows up to 15, 000 GPH. *Submersible pump not included.
Measures 20.75" x 20.75" x 24".
5 Year Limited Warranty.

Also Available:
Extension - Can be added for deeper wells and bigger water features. Measures 18" in height
Discharge kits make plumbing easier! Includes necessary plumbing parts (pipe, elbow, connections,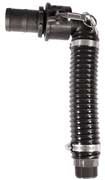 and quick disconnect coupling) to attach the pump to your existing plumbing. 1-1/4" MPT threads.
2 Sizes:

Discharge kit for Well

Discharge Kit for Well with extension




MORE INFO

Reviews