Saki-Hikari Multi-Season Koi & Pond Fish Food HIK42364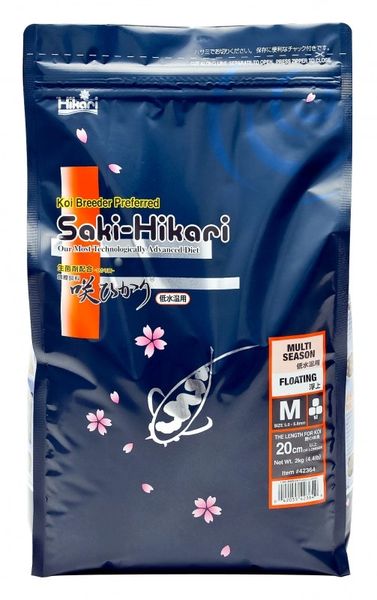 Saki-Hikari Multi-Season Koi & Pond Fish Food HIK42364
4.4 lb Medium Pellet
Koi Breeder Preferred — A Colder Weather, Daily Diet For Show Koi Offering Superior Assimilation, Improved Fat-Deposit-Free Growth Rate & Color-Enhancing Capacity
Saki-Hikari® Multi-Season is the perfect diet for feeding at lower water temperatures. The combination of easily digested ingredients, including the inner most portion of the wheat-germ kernel and its naturally high concentration of amino acids and vitamin-E, and the added beneficial living microorganism provide outstanding digestive properties. This diet offers uniquely balanced nutrition for growth and carotenoids for superior color enhancing capacity and can be fed in water temperatures as low as 50℉. The inclusion of stabilized vitamin-C helps support immune system health.
FEATURES
Manufactured to our exacting standards offering benefits not available with standard koi diets.
Contains easily digested ingredients, including a select portion of the wheat-germ kernel which offers higher levels of usable protein and beneficial vitamins than the whole kernel would. You'll experience efficient digestion even in lower water temperatures.
Contains a uniquely balanced mix of superior proteins and other necessary nutrients which support digestive system health while promoting steady, predictable growth and less chance of weight loss.
Includes pure, cultured Spirulina to help your koi maintain the brilliant colors you desire without any negative impact on the Shiroji (white areas).
Provides the proper level of nutrients and carotenoids to provide steady growth and improved coloration.
Excellent growth and coloration possible.
Can be used down to 50℉.
Contains a source of live (viable) naturally occuring microorganisms. (Probiotics)
Floating pellet.
Note: The benefits of Saki-Hikari® are only valid with continued, uninterrupted feeding.
What is Hikari Germ™?
The Hikari Germ™ is a source of live (viable) naturally occurring microorganisms which rapidly take priority in the intestine of the koi. It works to utilize the available nutrition working to reduce that which is available to bad bacteria thereby slowing their propagation. Additionally, Saki-Hikari™ offers your pet improved nutrient utilization through more efficient assimilation. This can translate into better water quality with continued use.

Saki-Hikari® is most effective when used without interruption as a daily diet. The Hikari Germ™ a source of live (viable) naturally occurring microorganisms is a probiotic that does not remain in the intestine and is quickly discharged once feeding is discontinued. Intermittent use will not allow the Hikari Germ™ to flourish and continue to support intestinal flora.
Saki-Hikari® Multi-Season will provide desirable results when your water temperatures are consistently above 54℉(12℃). Remember, lower water temperatures dictate less feeding. Nobody knows your koi better than you do. Use the following as a guide and always avoid overfeeding. Never leave uneaten food in the pond after the feeding period.
Above 64℉(18℃) - Feed Saki-Hikari® Multi-Season two to four times daily based on the activity level of your koi. For superior results, we suggest using our other Saki-Hikari® when water temperatures are above 68℉(20℃); Color Enhancing which offers brilliant color enhancing capacity or Growth to help develop true, fat-deposit-free form.
Between 54℉(12℃) and 64℉(18℃) - Feed Saki-Hikari® Multi-Season two to four times daily based on the activity level of your koi. For best results, try to feed during the warmest part of the day.
Between 41℉(5℃) and 54℉(12℃) - Carefully regulate the amount fed based on the activity level of your koi and your pond conditions. Extra care should be taken to avoid overfeeding in this temperature range.
Below 41℉(5℃) - Stop all feeding.
For more feeding information, see the article Feeding Your Koi - The Basics.
Saki-Hikari® Contains an FDA allowed and AAFCO listed source of live (viable) naturally occurring microorganisms (probiotics) and must be kept at room temperature (below 104℉(40℃)), free of direct sunlight, high humidity or excessive temperature change.
Rest assured, because of rigid quality standards, each package of Saki-Hikari® offers the superior nutrition you expect from Hikari® and includes an oxygen absorber to keep it fresh as possible before opening. For best results, after opening, store in a sealed container at room temperature free of high humidity, direct sunlight or high heat. This will help keep the product as fresh as possible and the Hikari Germ™ count at a preferred level. You should never buy more Saki-Hikari® than you can completely use within a few months nor purchase a package that is beyond the best before date.
Saki-Hikari® contains no artificial colors or flavors, only raw ingredients which may cause a slight change in color from one production lot to another.
Fish meal, wheat germ meal, milled rice, rice bran, brewers dried yeast, dried bakery product, soybean meal, roasted barley flour, spirulina, krill meal, fish oil, lecithin, dried seaweed meal, DL-methionine, garlic, dried B. subtilis fermentation product, astaxanthin, choline chloride, vitamin E supplement, L-ascorbyl-2-polyphosphate (stabilized vitamin C), inositol, D-calcium pantothenate (vitamin B₅), riboflavin, vitamin A supplement, thiamine mononitrate, pyridoxine hydrochloride, niacin, menadione sodium bisulfite complex (source of vitamin K activity), folic acid, vitamin D₃ supplement, biotin, disodium phosphate, salt, ferrous sulfate, magnesium sulfate, zinc sulfate, manganese sulfate, cobalt sulfate, copper sulfate, calcium iodate, selenium yeast.