PONDMASTER PRO 5000 POND SKIMMER SKU: 02475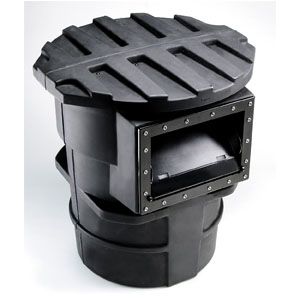 PONDMASTER PRO 5000 POND SKIMMER SKU: 02475
PRO 5000 POND SKIMMER
Weir Size Opening: 11" W x 7" H
Dimensions: 24" L x 26" W x 23" H
Max. Pump Capacity: 8,000 GPH
Operating Surface Area: 500 Sq. Ft.
Weight: 18 lbs.
Strong Ribbed Cylindrical Housing Eliminates Cave-Ins
Made from Heavy Duty High Density Polyethylene
Ribs Anchor Skimmer in Solidly in Place, No Shifting or Heaving
Tall 7" x 11" Wide Door for Efficient Skimming Over a Wide Range of Water Levels
Install 2 Pumps in the Same Skimmer for Massive Flows and Maximum Efficiency
Large Capacity Clog Resistant Leaf Basket that Keeps Debris Away from the Pump
Accommodates Most Pumps Up to 8,000 GPH
Maximum Bulkhead Placement Versatility for Multiple Inlets and Fittings Up to 2"
Reinforced Skimmer Lid Easily Supports 350 lbs./158kg.
For Maximum Cleaning, Use with ProLine Pressurized Filter System

  INSTRUCTION MANUAL