Pondmaster Deep Water Air Pump AP-100 SUP04580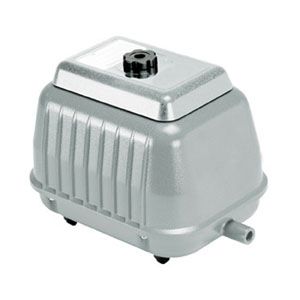 Pondmaster Deep Water Air Pump AP-100 SUP04580
High volume pump with steady air flow is energy efficient with quiet operation. Single outlet discharge. Air diffuser included.
6' cord. One year warranty.
Uses
Oxygenating Ponds and Aquariums for a Cleaner Aquatic Environment
Promoting Healthier Fish and Aquatic Plant Life
Increasing the Breakdown of Fish Waste
Preventing Icing-Over in Outdoor Ponds
Driving Protein Skimmers
Specifications
Air Volume: 9150 cu.in/min
Max. Water Depth: 11.5'
Noise Level: 45 dba
Watts: 100
Weight: 16.5 lbs
Tubing (Not Included): 3⁄4" I.D.
Pressure: 6.53 psi
Cord Length: 6'
Dimensions (L x W x H): 12.25" x 8.5" x 8.75"
Amps: 1.5