Matala Power-Cyclone Pond Vacuum MWT303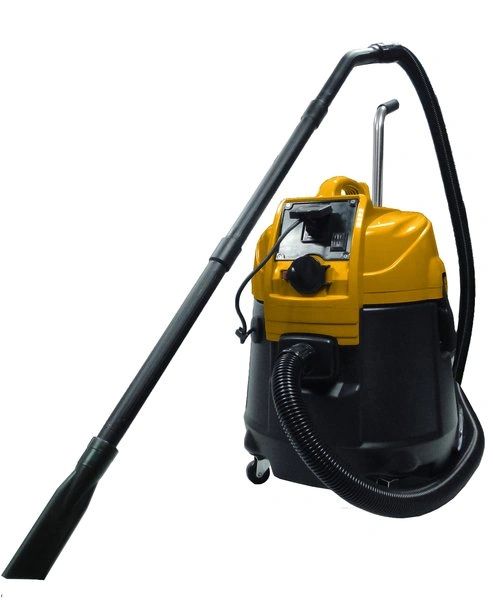 Matala Power-Cyclone Pond Vacuum MWT303
1500 gallon per hour Vacuum-Exhaust Capacity. Matala Water Technology has done it again! This contractor grade continuous vacuum is designed to vacuum large ponds. The innovative "Power-Cyclone" has two motors.
The suction motor will vacuum up to 1500 gph. The internal discharge motor is 1 HP and is capable of discharging your dirty water under pressure up to 18 feet in elevation.
The motors are balanced in flow rate so vacuum job is continuous without interruption. The 6 foot extension pipe combines with 26 feet of suction hose allowing for easy handling during even your biggest pond vacuum jobs. 4 different size vacuum heads are included.
Debris is vacuumed into the 13 gallon holding tank whereby large solids are collected into a pre-filter bag first. The dirty water is then pumped out to waste by the action of the internal 1 HP sludge pump. 32 ft of exhaust hose allows the waste water to be pumped to any elevation up to 18 feet high. Total working distance is over 60 feet. An optional secondary exhaust hose can be added onto the end of the discharge hose to gain an additional 32 ft if needed.
Features:
Powerful Non Stop Vacuum with balanced power discharge pump
Innovative design with 2 Motors
Internal Pre-Filter bag
Easy operation with heavy duty wheels and handle
Efficient and reliable
Plastic extension pipe 4pcs [approx. 6 ft].
13.2 gal container capacity
26.2ft / 8m Intake Hose
32ft / 10m Exhaust Hose
approx size: 18 x 17 x 24 inches
110-120v AC
1.6 hp motor
3600gph Discharge Pump
Power Cord length is 32 ft.
4 suction attachments included
Weight approx. 70lbs.
Vac consists of two motors, to be one of the first vacuums with continuous discharge. The vacuum suction motor can vacuum 1200 to 1500 gph and the internal 3600gph sludge pump continuously pumps out the dirty water. Can pump up to 18 feet vertical.
Includes 25 feet of suction hose and 30 feet of exhaust hose. 
Over 50 feet of distance!