Matala EZ-Bio 20 Pre Filter Double Core EZBIO20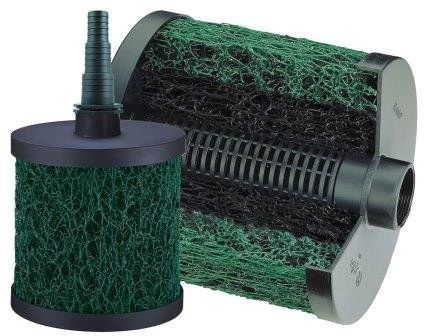 Matala EZ-Bio 20 Pre Filter Double Core EZBIO20
Simple and effective biomechanical pre-filters improve pump performance. Prevents pump damage and flow reduction due to debris and clogs. Expandable units available in single or double Matala® filter media core for superior biological filtration. Universal barbed fittings accept 1" to 1-1/2" tubing or 1-1/2" MPT. The versatile EZ Bio Filter can be used as a biomechanical pre-filter for circulation pumps, filtration pumps, and water fountain pumps.

The EZ Bio 20 has 2 filter core elements; an internal Black core combined with a larger Green outer core element. The outer Green core element is 8 inch diameter and 7.5" long.
The Inner core is 4" diameter.

The core element slides over a rigid slotted pipe. This rigid slotted pipe has a 1.5" male thread on one end and a 1.5" female thread on the other end. It is possible to connect multiple slotted pipes together to extend the length of the EZ Bio.

Also Available:
Attach your filter "Directly" to the Pump!
These fittings allow you to connect directly to your pumps threaded inlet!
1-1/2" MPT connects to filter, your choice of 1/2", 3/4" or 1" to connect to your pump!
(Not included!) Purchase Separately)