Matala EZ-Bio 11 Pre Filter Single Core EZBIO11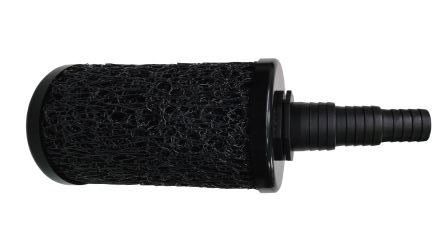 Matala EZ-Bio 11 Pre Filter Single Core EZBIO11
Pond pump pre-filters prevent flow reduction due to clogging Help extend pump life by reducing pump stress and damage Offer additional mechanical and biological filtration for ponds Simple and effective biomechanical pre-filters improve pump performance.
Prevents pump damage and flow reduction due to debris and clogs. Expandable units available in single or double Matala filter media core for superior biological filtration. Universal barbed fittings accept 1" to 1-1/2" tubing or 1-1/2" MPT.
The versatile EZ Bio Filter can be used as a biomechanical pre-filter for circulation pumps, filtration pumps, and water fountain pumps.
NOTE! - Although the pictures on this site show the Pre-Filters with "Blue" media, the Actual Color of media may vary. At this time they are using "Black" [coarse] Media!
Also Available:
Attach your filter "Directly" to the Pump!
These fittings allow you to connect directly to your pumps threaded inlet!
1-1/2" MPT connects to filter, your choice of 1/2", 3/4" or 1" to connect to your pump!
(Not included!) Purchase Separately)