Liquid Fence Deer & Rabbit Repellent Granular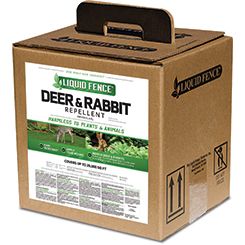 Liquid Fence Deer & Rabbit Repellent Granular
*40lb Size cannot ship to: IN, NM & SD
Deer & Rabbit Repellent Granular2
3 sizes:
71126 - 32 oz.
70109 - 1 gal.
70769 - 40 lbs.*

Homeowners, gardeners, professional landscapers and commercial growers have discovered Liquid Fence® Deer & Rabbit Repellent Granular2 stops deer and rabbit damage.
Unlike other deer and rabbit repellents that require the animals to browse to be effective, Liquid Fence Deer & Rabbit Repellent Granular2 works on scent, so deer and rabbits don't even have to take a bite to be repelled. Because the animals' natural aversion to this scent will never diminish, Liquid Fence Deer & Rabbit Repellent Granular2 DOES NOT have to be rotated with other repellent brands.
Harmless to plants and animals, when used as directed
Rain resistant
Apply year-round
Repels deer and rabbits from landscaped ornamental gardens, flowers, shrubs, trees and vines
Active Ingredients
Putrescent Whole Egg Solids 3.115%
Garlic 1.122%
Sodium Lauryl Sulfate 0.118%
Thyme Oil 0.015%
Other Ingredients* 95.630%
Total 100.000%
*Diatomaceous Earth, Water 
DIRECTIONS FOR USE
Remove cap and inner seal. Replace cap and tighten. (Retain and replace inner seal to preserve freshness during storage.) Apply Liquid Fence® Deer & Rabbit Repellent Granular2 evenly on and around low-growing flower beds, landscaped ornamental gardens, ground cover and lawns. Vegetation will be protected up to 24 inches in height. Reapply every three to four weeks. Reapplication is recommended after excessive rainfall. In areas where feeding pressure from deer and rabbits is intense, additional and/or more liberal applications may be needed.
For protection of vegetation above the height of 24 inches, we recommend using Liquid Fence Deer & Rabbit Repellent Ready-To-Use2.
STORAGE AND DISPOSAL
Do not contaminate water, food or feed by storage or disposal.
STORAGE: Store in original container, in a cool, dry area inaccessible to children and pets. Protect from heat and freezing. Store between 40°F and 90°F. Keep containers closed tightly with inner seal in place to prevent drying out. If spillage occurs, sweep up.
CONTAINER DISPOSAL: Do not reuse empty container. Dispose of empty container as required by municipal or local laws.
PRECAUTIONARY STATEMENTS
KEEP OUT OF REACH OF CHILDREN
CAUTION. This product may be harmful if swallowed. Avoid contact with eyes. If contact with eyes occurs, immediately flush with plenty of water. Seek medical attention if either occurs.