Hikari Spirulina Pond Fish & Koi Food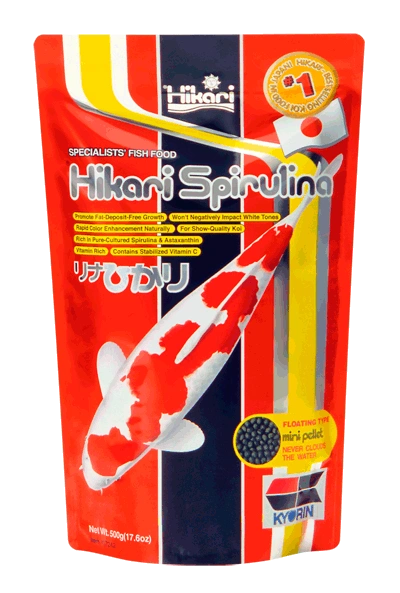 Hikari Spirulina Pond Fish & Koi Food
Superior Color Enhancing Supplemental Diet For Koi
KEY BENEFITS
Floating Pellet That Will Not Cloud The Water
Allows easy monitoring of amount eaten
Helps eliminate over-feeding
Reduces water quality problems
More economical
Color Enhancement
High in pure, cultured spirulina, a natural color enhancer
Rich in NS germ
Brings out the most vibrant, natural colors
Will not affect the white areas of the fish
Will add beauty and luster to the skin
Contains Stabilized Vitamin C
Supports immune system health
Promotes a long, healthy life
Excellent Daily Diet
Outstanding nutrition
Easily digested
Promotes championship form and color
Available Sizes:
17.6 oz Small/Mini Pellet #07242
11 Lb Large Pellet #07482
FEEDING SUGGESTIONS
When your water temperature is consistently above 70 degrees, feed two to four times daily. Warmer temperatures translate to more activity and the need for more food. Always remove all remaining food after the feeding period to avoid over-feeding and the water quality problems associated with this action.