Hikari Sinking Wheat-Germ HIK35382 35342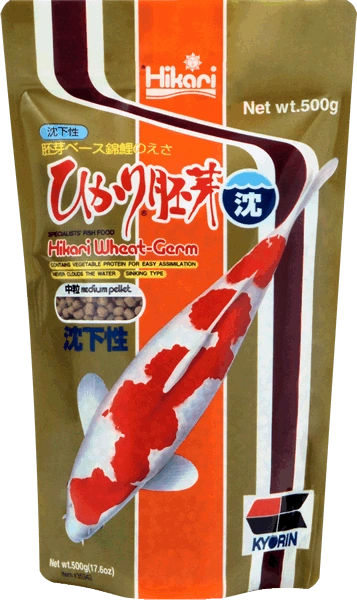 Hikari Sinking Wheat-Germ HIK35382 35342
A highly nutritious, easily assimilated, highly digestible daily diet for koi and other pond fish, including goldfish. Developed through many years of breeding experience, this highly nutritious diet is extremely effective in cooler climates which experience a winter season.Give your koi a jump on this year's show-off months, feed Hikari Wheat-Germ year round. It will have your aquatic pet looking their best while improving their fertility.

FEATURES
®Hikari Sinking Wheat-Germ an excellent, easily digested, daily diet for koi and other pond fish for use when water temperature are cooler or improved overall digestive character is desired. Made from carefully selected high quality ingredients including; vegetable proteins, natural fats and necessary vitamins and minerals (especially high in vitamin E and stabilized vitamin C). ®Hikari Sinking Wheat-Germ helps support a healthy immune system and brilliant body luster while maintaining the depth of the white areas of the fish. Best of all, the sinking pellets won't cloud your water. ®Hikari Sinking Wheat-Germ, your first choice for superior growth and digestion in colder or variable water temperatures!
BENEFITS
Easily Digested Daily Diet
Supports Waste Reduction
Excellent For Lower Temperature Feeding - Autumn to Spring
Naturally High Linolenic Acid And Vitamin E Content
Vegetable Rich
Contains Stabilized Vitamin C
FEEDING SUGGESTIONS
Regularly monitor your temperature and adjust the amount and frequency of your feedings based on this temperature, the water condition, number and size of fish and their activity level. Avoid over-feeding and always remove any uneaten food remaining after the feeding period. For 18-30°C (64-86°F) feed 2 to 4 times per day the amount your fish will completely consume within 5 minutes. For 5-18°C (41-64°F) feed no more than twice daily the amount your fish will completely consume within 5 minutes. For best results try to feed during the warmer part of the day. Below 5°C (41°F) do not feed your fish.
INGREDIENTS
Wheat germ meal, fish meal, wheat flour, rice germ meal, gluten meal, wheat bran, vegetable oil, dried bakery product, brewers dried yeast, protease enzyme, garlic, monosodium glutamate, vitamin A oil, vitamin D₃ supplement, vitamin E supplement, menadione sodium bisulfite complex (source of vitamin K), choline chloride, L-ascorbyl-2-polyphosphate (stabilized vitamin C), calcium pantotenate, riboflavin, thiamine mononitrate, pyridoxine hydrochloride, niacin, folic acid, biotin, ferrous sulfate, magnesium sulfate, zinc sulfate, manganese sulfate, cobalt sulfate, copper sulfate, calcium iodate, aluminum hydroxide, selenium yeast.
AVAILABLE SIZES
Medium Sinking Pellet
17.6 oz Item #35342
11 Lb (5k g) Item #35382