HIGHLAND RIM FERTILIZER HR41-45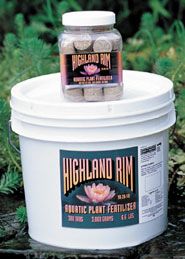 HIGHLAND RIM FERTILIZER HR41-45
Fast acting fertilizer tabs that allow their nutrients to go right to work giving plants a strong start and healthy diet. 10-26-10 ratio. Will not crumble or dissolve in the water before you get them into the plant containers. 10 gram tablet size allows for fewer tablets per container. Use 1-tab per gal of soil every 6 weeks.

Available in 4 Sizes:
12 tabs, 36 tabs, 80 tabs, and 300 tabs.