GreenCleanFX Liquid Algaecide GRFX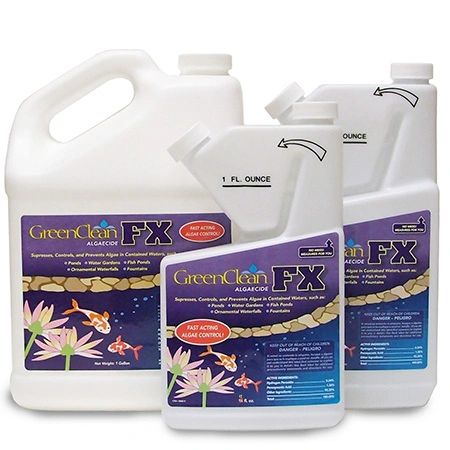 GreenCleanFX Liquid Algaecide GRFX
GreenCleanFX Liquid Algaecide utilizes a unique activated peroxide formula to oxidize algae cells and kill them on contact. As a commercial-strength treatment to suppress, control and prevent string, filamentous and planktonic algae, even in deeper waters, GreenCleanFX Liquid Algaecide is unmatched. As an EPA-registered algaecide, it is compliant with the USDA National Organic Program regulations making it safe for use in water features containing fish, plants and other aquatic life. As an added benefit to ease pond maintenance, GreenCleanFX Liquid will not lead to an increase in water pH. Use all season long!

GreenCleanFX Liquid Algaecide is the best choice on the market for clearer waters. It is ideal for green water algae, can run through your system removing algae throughout, and works even in cooler waters – making it ideal for pond openings. It is long-lasting: a 32 fl. oz (comes with one free oz.) can treat up to 4,850 gallons. Its packaging is easy to use with a tip-and-pour technology that measures for you. No mess, no guessing, just easy applications and beautiful water!
Continues to work up to 48 hours after application
Breaks down into water and oxygen leaving no residuals
Moves to the bottom making it highly effective in deeper waters
Reduces organic build up and odors
EPA approved
Great for pond openings all the way into the cooler months making it the perfect choice!
The low application rates make GreenCleanFX Liquid Algaecide a highly effective and affordable solution to a wide variety of algae conditions. The chlorine, copper and phosphate-free formula makes it fish, pet and family friendly. Other products contain harsh chemicals, if used incorrectly it could be harmful to the fish, plants, and the balance of the water column.
One major benefit of GreenCleanFX Liquid Algaecide is it can be used in colder waters as algae can still be present in those conditions. You can use GreenCleanFX Liquid Algaecide in the spring as an opening application and use it throughout the season. It will also not lead to an increase in water pH like other products.
GreenCleanFX Liquid vs GreenClean Granular: GreenCleanFX Liquid Algaecide goes quickly into the water column and begins treating the system where GreenClean Granular is more of a spot treatment for waterfalls or string algae. So together they make an excellent program.