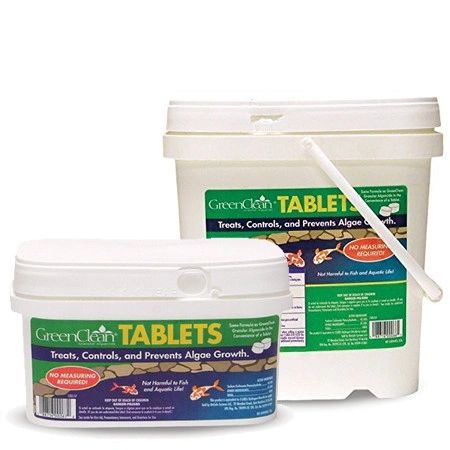 GreenClean Tablets grt
GreenClean Tablets utilize an activated peroxygen chemistry, the same oxidizing formula as GreenClean Granular Algaecide, in a convenient tablet form. GreenClean Tablets are an essential part of a preventative maintenance program against string and planktonic algae.
Ideal for Preventing Algae All Season – Just Throw & Go!
Treats, Controls and Prevents Algae Growth!
It is the go-to product for pond owners who do not have time for difficult pond maintenance programs. Each container of GreenClean Tablets comes with a scoop for easy application. A single scoop will treat up to 200 gallons of water.
USDA National Organic Program compliant & EPA approved
Alternative to chlorine, copper and phosphate-based products
Can be applied to ponds with plant and animal life
Where to Use:
Use GreenClean Tablets without worry in koi and fish ponds, ornamental waterfalls and gardens, lakes and lagoons.
3 lb. – treats up to 6,800 gallons
8 lb. – treats up to 18,300 gallons
16 lb. – treats up to 35,200 gallons
Use 1 Scoop per 200 gallons
When to Use:
Apply throughout the spring and fall as a preventative algae program.
Apply GreenClean Tablets as a maintenance product one week after a curative treatment of GreenClean Granular Algaecide or GreenCleanFX Liquid Algaecide. GreenClean Tablets work best in warmer water temperatures and can be applied early in the spring to prevent algae before it starts.
How to Use:
GreenClean Tablets work best when applied on a weekly basis, just distribute tablets evenly throughout the pond according to recommended rates. TIP: Skimming dead algae will help prevent future growths
Why it's Better
GreenClean Tablets are the only kind on the market! Unique and effective for all-season.
GreenClean Tablets are free of chlorine, copper and phosphates so they are safe for use in water features that contain fish, plants and aquatic life. With their slow-release formula, GreenClean Tablets add vital oxygen to the aquatic ecosystem to support fish and plant health.
• USDA National Organic Program Compliant & EPA Approved
• Alternative to Chlorine, Copper and Phosphate-Based Products