GreenClean Blue Colorant GRBL16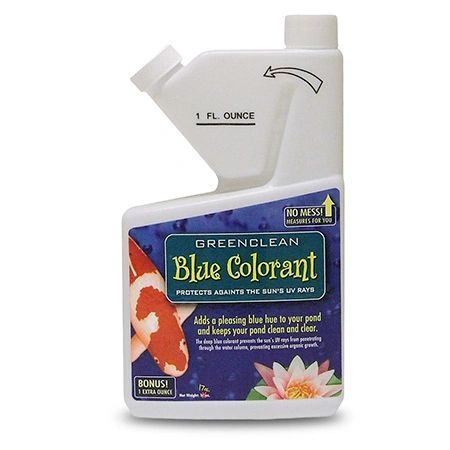 GreenClean Blue Colorant GRBL16
GreenClean Blue Colorant adds rich blue tones to water features including koi ponds, fountains, and water gardens. GreenClean Blue Colorant mixes quickly and evenly.

No Water Use Restrictions
Non–Staining to Aquatic Life or Rock Once Diluted
Built-in Dosing Cup for Easy Application
Use at All Water Temperatures
16 fl. oz. w/ bonus oz. treats up to 17,000 gallons and 32 fl. oz treats up to 250.000 gallons.
Directions
Where to Use:
Use on water features: koi ponds, ornamental ponds, fountains & water gardens.
When to Use:
Use throughout the season as part of your pond maintenance program. GreenClean Blue Colorant provides a barrier against the sun's UV. It is especially helpful for water features that receive full sun during warmer months.
How to Use:
The Perfect Pour, no-mess bottle, makes measuring easy. Just tilt to the side and the measuring cup does the work for you!
Add slowly until desired color depth is reached. Re-treat every 30-90 days depending on rainfall, run-off, turbidity, and evaporation.