Green Smoke (chartreuse) Tropical Day Lily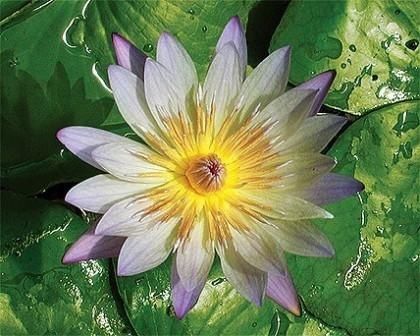 Green Smoke (chartreuse) Tropical Day Lily
Inner chartreuse petals with smoky blue outer petals make this an unusually lovely flower. The blooms are cup-shaped and measure 5-6 inches. Very fragrant. Pads begin bronze but evolve to green with purple markings. They measure around 12 inches and are oval-shaped with crimped edges. 5-6 foot spread. Zones 9-11; Full sun- thrives best in 4-6 hours of direct sunlight.
► Common name: 'Green Smoke' Day Blooming Lily
► Latin name: Nymphaea 'Green Smoke'
► Winter hardy: In USDA Zone 9 thru 11, only. (Treat as an annual north of USDA Zone 9.)
► Pond size: Medium to Large
► Flowers: Yes, Light green to smoky blue
Enjoy the pleasant fragrance of this lily. The petals on the flowers range from chartreuse to light smokey blue. The blooms average 6"-8" in size. A very good bloomer. Foliage consists of green with bronze flecked pads and a wavy edge. Does best with 4-6 hours of direct sun. Petals are chartreuse to light smoky blue, pleasant fragrance.
Recommended Pot Size: Minimum – 10" Fabric Pot or 10"x6" Plastic Pot Better - 14" Fabric Pot or 12"x7-3/4" Plastic Pot