CrystalClear® SubLime™ ARCC087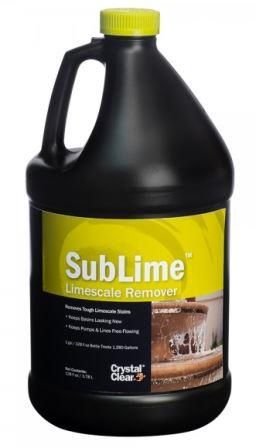 CrystalClear® SubLime™ ARCC087
Limescale Remover
1 ounce treats up to 10 gallons
Removes Tough Limescale Stains
Keeps Basins Looking New
Keeps Pumps & Lines Free-Flowing
CrystalClear® SubLime™ will deep clean basin pits, cracks and crevices to ensure a new appearance all year round. SubLime™ will also help to prolong the life of fountain pumps by removing limescale and calcium deposits in and around the pump housing. CrystalClear® SubLime™ safely removes limescale and calcium deposits in all models of fountains, bubblers and water features. Its unique, gentle formula allows for use on all substrates: ceramic, cement, plastic, resin and rock.
Routine Application Rate
Apply SubLime™ once a week.
Persistent Problem Application Rate
Do not apply SubLime™ limescale remover at any other rate than the rate prescribed above once a week.
For Best Result
Apply to basin for maximum dispersion