Clear Pond QuickFix For Ponds and Water Gardens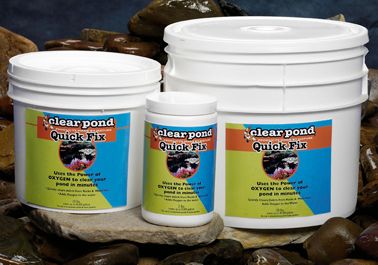 Clear Pond QuickFix For Ponds and Water Gardens
QUICK FIX FOR PONDS, WATER GARDENS,
FOUNTAINS & BIRDBATHS
2 lb Jar treats 8,000 gallons 
6 lb Pail  treats 24,000 gallons
10 lb Bucket  treats 40,000 gallons
25 lb Bucket  treats 100,000 gallons
Our new Quick Fix formula uses the power of oxygen to safely, quickly and efficiently clear-up your pond in minutes.
• Clears Unwanted Debris from Rocks and Waterfalls
• Starts working immediately to clean your pond water
• Non-Hazardous and safe treatment to clean ponds
Quick Fix works through a powerful oxidation reaction. Quick Fix contains enzymes which help prevent build up of debris on rocks and waterfalls. It reacts with natural elements in the pond to oxidize and detoxify a broad range of organic and inorganic waste and other unwanted debris. Quick Fix adds 13% oxygen to the water and the benefits last for hours. Oxygen also sweetens the water and helps prevent anaerobic conditions that lead to production of foul smelling sulfides. Quick Fix biodegrades completely into water and oxygen and therefore is safe to use with fish or animals.