Clear Pond Liquid BSL Formula Beneficial Bacteria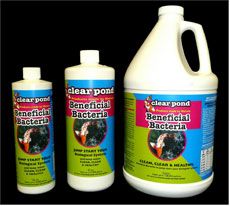 Clear Pond Liquid BSL Formula Beneficial Bacteria
BENEFICIAL BACTERIA FORMULA
A NATURAL PRESCRIPTION FOR A CLEAN AND HEALTHY POND
Safe for All Aquatic Life
8 oz  treats 8,000 gallons
16 oz  treats 16,000 gallons
32 oz  treats 32,000 gallons 
1 Gal.  treats 128,000 gallons 
Treats up to 1000-gal per ounce. Contains a blend of billions of various microbes (primarily Nitrosomonas & Nitrobacter) which are known to be highly beneficial to the ecological balance of pond water.

 A new innovative bacteria formula developed to be beneficial to pond life and 100% environmentally safe, non-pathogenic and non-toxic. Should be used in Spring along with our Clear Pond Sludge Remover Formula to jump start your pond's biological system, and weekly to maintain a healthy pond throughout the summer season. When used on a regular basis, Clear Pond's beneficial bacteria helps to promote a healthy balanced pond that will naturally reduce the effects of string algae, pea soup green water, sludge that usually builds up at the pond bottom and help to control the build-up of wildlife waste. 
The Bacteria and enzymes in Clear Pond:
• Consume sludge that usually builds up at the pond bottom.
• Improve dissolved oxygen content.
• Consume dead algae.
• Work in a wide range of pH.
• Contain facultative bacteria which continue to work in a non-oxygen 
   environment.