Atlantic Water Gardens Color Changing Color Falls AWG138-141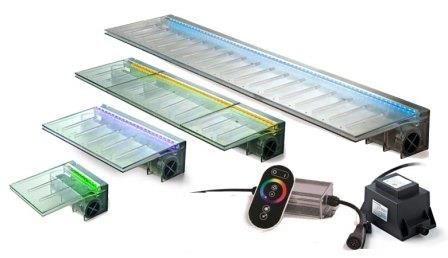 Atlantic Water Gardens Color Changing Color Falls AWG138-141
Atlantic's Color Changing Colorfalls add a whole new dimension to Formal Spillways. The modular body style offers easier maintenance, with a removable back for easy access and side plumbing ports. A more generous weir opening resists clogging and creates a thicker, fuller sheer for extra color and less wind deflection. The innovative modular design with easy to install threaded couplings makes connecting any number of falls together a snap! The LED light bar offers 48 vibrant color options and 18 preset modes via remote control.

Atlantic's Color Changing Colorfalls is the only modular sheer descent system with multiple light and configuration options, the most versatile way to add light and water to your landscape or hardscape
Color Changing Colorfalls synchronize with Atlantic SOL LED Hardscape and submersible lights to create illuminated landscapes
Unlike other sheer descent waterfalls, Atlantic Color Changing Colorfalls may be linked together to create waterfalls of any width
Create up to a 15-foot synchronized Color Changing Colorfalls using the Master Control Module CCCM05
Designed to install easily in any wall, indoors or out, whether stone, brick, block, stucco, tile or wood
Atlantic's Color Changing Colorfalls' modular body style offers multiple inlets for maximum plumbing flexibility
Generous weir openings resist clogging and creat a thicker, fuller sheer for extra color and less wind deflection
Colorfalls feature a 5" lip, 20' powercord and includes Color Changing Control Module, remote control and outdoor transformer
For use with Formal Spillway Basins and Basin Kits

Threaded adapter with silicone O-rings to connect multiple Color Changing Colorfalls.

Removable back plate provides access to the interior and light bar for routine maintenance.

Color Changing LED light bar that is accessible from the rear of the unit.

Removable baffle for easy cleaning and servicing.

Self-draining body for easy winterization.

Includes (2) 1½" plugs for unused plumbing inlets.

1½" FIPT inlets on both sides and back for maximum plumbing options and  versatility.

Redesigned internal lip supports eliminate splitting of the water sheer.
Model:

CC06

Description:

6" Color Changing Colorfalls

Flow Rate: 600 gph
Projection: 8-10" at 18"H & 600 gph

Input Voltage:

12 Volt DC / 6-wire

Watts:

1 - 3 variable

Inlet:

1½" FIPT

Warranty:

1 Year

Dimensions 6"W x 8"D x 3½"H
Model:

CC12   

Description:

12" Color Changing Colorfalls

Flow Rate:

1,200 gph

Projection:

8-10" at 18"H & 1,200 gph

Input Voltage:

12 Volt DC / 6-wire

Watts:

2 - 5 variable

Inlet:

1½" FIPT

Warranty:

1 Year

Dimensions:

12"W x 8"D x 3½"H
Model:

CC24

Description:

24" Color Changing Colorfalls

Flow Rate:

2,400 gph

Projection:

8-10" at 18"H & 2,400 gph

Input Voltage:

12 Volt DC / 6-wire

Watts:

3 - 10 variable

Inlet:

1½" FIPT

Warranty:

1 Year

Dimensions:

24"W x 8"D x 3½"H
Model:

CC36

Description:

36" Color Changing Colorfalls

Flow Rate:

3,600 gph

Projection:

8-10" at 18"H & 3,600 gph

Input Voltage:

12 Volt DC / 6-wire

Watts:

5 - 15 variable

Inlet:

1½" FIPT

Warranty:

1 Year

Dimensions:

36"W x 8"D x 3½"H