API Pond Care Simply Clear AQP248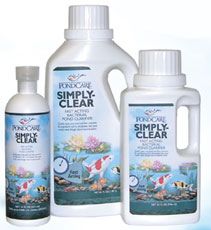 API Pond Care Simply Clear AQP248
Specially selected and unique strains of bacteria that grow faster than conventional enzyme-producing bacteria and release a natural polymeric coating into the water that will flocculate small particles. The natural flocculation process will clear water of all materials including clay, silt, and debris. At the same time, the bacteria will consume high volumes of phosphates and nitrates.
DIRECTIONS FOR USE:
Initial dose at Spring start-up and end of season dose: add 0.5 cup per 500 gallons of pond water twice a week for 2 weeks. Maintenance dose: add 4 tbps. per 500 gallons of pond water every 2 weeks.
Treats up to 4000 gallons per 16-oz.