Alpine Hurricane Pumps BKA11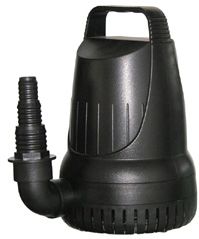 Alpine Hurricane Pumps BKA11
Ideal for heavy duty waterfall or filter systems, as it has the needed power to force large quantities of water through long or high pipe runs. Oil-free, magnetic driven, epoxy protected, ceramic shaft. 3/4" to 1-1/4" outlet connections for 1" FPT pump outlet. 33-ft power cord. 3 year warranty.
95 watts and max lift 11'5"
125 watts and max lift 13'1"
175 watts and max lift 16'4"
180 watts and max lift 23'
---